09/09/2006



Best Game of 2005: Part 4 (#1-3)


--------------------------------------------
by NM Arun Sharma
--------------------------------------------

***Forward by League Commissioner IM Greg Shahade***

This is the fourth and final part of a series of articles highlighting the best games of 2005. We have taken all of the games of the week from the 2005 season. NM Arun Sharma then went through all 12 of them and has ranked them from 1st to 12th. Criteria used for ranking in order of importance were:

1. Level of Play
2. Excitement Factor (Were there lots of exciting sacrifices and etc)
3. Relevance towards Standings
4. Intrigue (big upset etc)

With this article we will finally determine which game was awarded the best game of the year prize. Below are the candidates that are still in the running for best game of 2005, followed by those that have already been eliminated:



2005 Games of the Week:







Week 3:

IM-elect Lev Milman (CAR) vs GM Larry Christiansen (BOS) 0-1




Week 4:

GM Larry Christiansen (BOS) vs IM Pascal Charbonneau (BAL) 0-1




SemiFinals:

FM David Pruess (SF) vs IM Blas Lugo (MIA) 1-0








4th Place:

Week 7:

IM Pascal Charbonneau (BAL) vs FM Norman Rogers (PHI) 0-1




5th Place:

Week 9:

NM Jon Rouleau (BAL) vs FM Lewis Eisen (NY) 1-0




6th Place:

Week 8:

FM David Pruess (SF) vs NM Elvin Wilson (PHI) 1-0




7th Place:

Week 2:

IM John Donaldson (SF) vs GM Alejandro Ramirez (DAL) 1/2-1/2
8th Place:

Week 5:

FM Matthew Hoekstra (CAR) vs WGM-elect Jenn Shahade (NY) 0-1


9th place:

Week 6:

IM Vince McCambridge (SF) vs IM Pascal Charbonneau 0-1


10th place:

Week 1:

IM Eugene Perelshteyn (BOS) vs GM Alex Stripunsky (NY) 1-0


11th place:

League Finals:

IM Larry Kaufman (BAL) vs IM Blas Lugo (MIA) 1-0




12th place

:

Week 10:

IM Dmitry Shneider (DAL) vs IM-elect Lev Milman (CAR) 1-0




*** Onto the rankings by NM Sharma***


---



3rd Place:

FM David Pruess (SF) vs IM Blas Lugo (MIA) 1-0






This game certainly has to be up there if you want to find the craziest
games played in the first season. Just like G. Shahade declared in the
aftermath, I surely wouldn't presume to claim I knew exactly who was
winning or what was going on throughout the game, but when one side has
a pawn in queening position on the fifteenth move while the other side
has sacrificed two pieces on the other side of the board, you surely can't
get much wackier than that. Another fine performance from Pruess although
the entire match, due to some great tenacity from the other Miami
teammates, ended up going the wrong way for his team.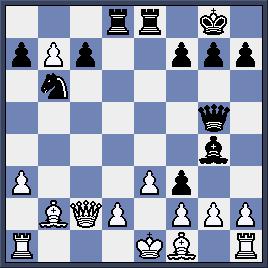 (Pruess - Lugo 2005) after 15....Rad8
not your typical middlegame....





2nd Place:

IM-elect Lev Milman (CAR) vs GM Larry Christiansen (BOS) 0-1



A game which in the opening and early middlegame seemed rather drab was
turned into very exciting with the solid blow 19... f5! which turned a
rather closed looking position into a big attacking battle. Later on
Christiansen once again showed no fear of opening his King up further
with 24... h5! to which Milman made a crucial error with 25. Nh4? and
Christiansen soon converted the full point. With this win the Blitz
took the match by the score of 2.5-1.5 so this game was huge in
determining that result especially due to this being Boston's first win
of the season after starting the season with two draws. Although they
faltered a bit in the later weeks, it's clear that the Blitz are very
capable of taking down important matches with solid wins such as this
and are very likely to make some more noise in the new season than they did
in this one.




(Milman-Christiansen 2005) after 19....f6-f5
The start of black's deadly attack.





1st Place.

GM Larry Christiansen (BOS) vs IM Pascal Charbonneau (BAL) 0-1




While this game by Charbonneau's own admission was "not perfect by any
means", I still feel it deserves to be considered the Game of the Year
for a multitude of reasons. This game was certainly a spectator's delight,
much of which stemmed from the eighteenth move where most thought Black
was in severe trouble needing to evacuate his N on f6 and then face the
consequences of Nd5. However, Charbonneau uncorked 18... Ne5! which
was certainly met with extreme surprise from the spectators, some thinking
he had played a howler in a lost position and others thinking it might
have been a mouseslip. But as he showed this was likely his best chance,
and with the elegant idea of 23... Re8! he fought back into the game,
ending up steering the game into an endgame most felt was likely drawn yet he
defied the predictions once again and managed to squeeze the full point
out, when his opponent went a bit crazy trying to win at all costs.
This game, in addition to being very exciting, was likely a huge
confidence boost for Charbonneau and for the entire Baltimore team as
this match occurred during their four match winning streak and was the
beginning of an amazing run for Charbonneau, and likely the
catalyst for him getting the MVP award at the end.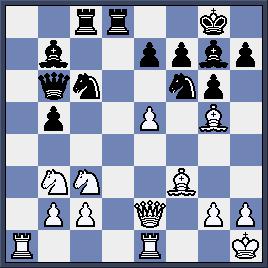 (Christiansen-Charbonneau 2005) Black to move after 18.Qd1-e2
Black played the shocking 18....Nxe5, simultaneously
confusing and delighting the fans watching online.



FINAL RESULTS:

1st Place:

Week 4:

GM Larry Christiansen (BOS) vs IM Pascal Charbonneau (BAL) 0-1




2nd Place:

Week 3:

IM-elect Lev Milman (CAR) vs GM Larry Christiansen (BOS) 0-1




3rd Place:

SemiFinals:

FM David Pruess (SF) vs IM Blas Lugo (MIA) 1-0




4th Place:

Week 7:

IM Pascal Charbonneau (BAL) vs FM Norman Rogers (PHI) 0-1




5th Place:

Week 9:

NM Jon Rouleau (BAL) vs FM Lewis Eisen (NY) 1-0




6th Place:

Week 8:

FM David Pruess (SF) vs NM Elvin Wilson (PHI) 1-0




7th Place:

Week 2:

IM John Donaldson (SF) vs GM Alejandro Ramirez (DAL) 1/2-1/2
8th Place:

Week 5:

FM Matthew Hoekstra (CAR) vs WGM-elect Jenn Shahade (NY) 0-1


9th place:

Week 6:

IM Vince McCambridge (SF) vs IM Pascal Charbonneau 0-1


10th place:

Week 1:

IM Eugene Perelshteyn (BOS) vs GM Alex Stripunsky (NY) 1-0


11th place:

League Finals:

IM Larry Kaufman (BAL) vs IM Blas Lugo (MIA) 1-0




12th place

:

Week 10:

IM Dmitry Shneider (DAL) vs IM-elect Lev Milman (CAR) 1-0




The 2006 Game of the Year will be chosen during the offseason, with at least 3 judges ranking all 13 games. This year the USCL hopes to have more exciting content during the long offseason as well as during the season!


Click here to go back to the US Chess League homepage