09/14/2006

10 Questions: GM Pascal Charbonneau
--------------------------------------------
Interviewer: USCL Commissioner IM Greg Shahade
--------------------------------------------

Enjoy this new feature in which players throughout the league are asked 10 interesting, fun and perhaps a little provocative questions about the league and about life in general. Below is the first installment with 2005 MVP Pascal Charbonneau: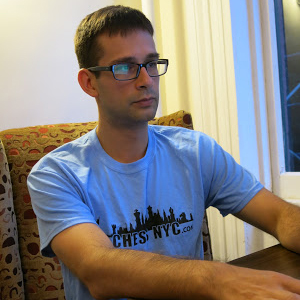 Question #1: How did it feel to win the 2005 USCL Championship? Describe the experience.


There is something cool about team chess which is hard to find in 
other disciplines. Of course chess is the most individualistic thing in 
the world, but when you are playing next to your teammates, you find 
yourself rooting for them and at the same time you are completely at their mercy. They 
have to score or else you lose the match. I am not sure what I am 
saying makes much sense, but the point was that it felt great to win the 
league last year.
Question #2: Were you confident about
Baltimore
's chances to win the Championship before the season last year?
To be honest, I was not particularly confident. But at some point 
during the season I realized we were very balanced, and that our 
experience was paying off. Having someone like IM Larry Kaufman on board 
three is certainly a big asset.
Question #3: Were you surprised to win the MVP award, as at the time you were only an IM and there were quite a few strong GM's in the league?


I was not really surprised by the MVP award because there were many 
GMs, but rather because I had played a few awful games. But somehow, it 
seemed like a good way to start the playoffs, indicating that maybe we 
could take it home.
Question #4: How does it feel to be playing in
New York
next to your longtime girlfriend, IM Irina Krush?
Playing with Irina is of course very fun, but as I will write a bit 
more about later during the interview, it's important to remain focused 
on the game and not on the eyes of the woman you love.

Question #5: New York
is off to a slow start at just 1-2. Do you think your team still has good chances to stage a comeback and fulfill their lofty expectations. Or do you think that Arun Sharma (the one who predicted you would win it all) basically has no idea what's going on?
I certainly believe in my team's chances, even though the team 
underwent a major overhaul for this season and so far we have not fared 
well. We have youth on our side, although the youth has suffered a few 
opening debacles. I might try a little bit of pep talk with them, 
remind them that knights are better on c3 than on d2 (sorry Robert, I just had 
to) and I am confident we can win a lot of matches. I do think, 
however, that this tough time we have had is only possible because other teams 
have been strengthened too.
Question #6: What do you feel has been your best game in the USCL so far, including the 2005 season.


This might seem like a strange choice, but I really enjoyed my game 
with Pawel Blehm. It's always weird to play a friend, but we definitely 
managed to make it exciting this time. Last season, a lot of my games 
were exciting, but were full of turnarounds. The game with Blehm I felt 
was pretty clean, we both played well, it was very complicated, and the 
result was a fair draw.
Question #7: If you were the manager of the New York Knights and
Baltimore
's manager called you up and offered to trade Tegshsuren Enkhbat and Larry Kaufman for Irina Krush and Jay Bonin, what would you say?


This trade is ridiculous. I suffered for enough years having Irina 
live so far away from me. Seriously though, I don't think the Knights 
are worse here at all. We just have to prove it in the matches!
Question #8: Rumor on the street is that you have moved to
New York
and are starting a new job. Tell us about it!
This must have been a rumor on Wall St. (I still make lots of puns) 
Well, indeed I have moved to New York. I am working for a 
financial/trading technology firm, which also has a broker-dealer side 
to it. Right now I spend most of my days at the NYSE, and I am just 
getting started, but there couldn't be a more exciting place to start.
(For more information here is their website)

Question #9: After losing in week 1 to IM Richard Costigan,
Philadelphia
's player/manager FM Michael Shahade, publicly referred to you as a "potzer". Do you have anything to say to him?


I have had my share of bad luck with Philadelphia eh? Well, all I 
can say is that the game with Costigan was quite a shame for me, especially 
if I had any dreams of being a repeat MVP. What happened is that we 
were winning the match 2.5-0.5 (thus it was in the bag), but I saw that 
Irina was rather upset because she didn't manage to win her (pawn up) endgame 
against Norman Rogers. I looked at her puppydog eyes, tried to express 
how sorry I was, and then played one move without thinking and turned a 
drawish/slightly better endgame into an immediate loss. The moral of 
the story is that I have to get used to playing next to Irina, and if 
possible actually finish my game before she does :-) And the potzer 
will try to get his revenge as black (seemingly his strong color in the 
USCL...)
Question #10: Ok tell us now, if
New York
doesn't win it all, which team is going to win the USCL Championship this year?
Although I still think NY will win it all, I have been impressed 
both Seattle and SF. (After being informed that such a wishy washy
answer wasn't acceptable, Pascal decided to choose San Francisco)


Thanks for your time Pascal, and good luck to the New York Knights in the rest of the season!
---

Click here to go back to the US Chess League homepage