10/03/2006

10 Questions with Ilya Krasik
--------------------------------------------
by IM Greg Shahade
--------------------------------------------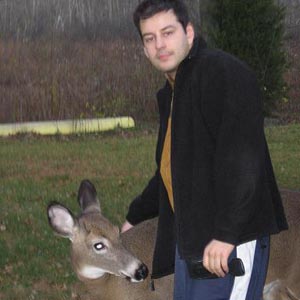 Ilya Krasik of the Boston Blitz





1. So Boston wins every match this year? Whats the difference between this year and last year?



On the surface there a few differences between last year's team and this one. IM Igor Foygel replaces the wild journeyman Josh Friedel and Vadim Martirosov took the place of the departing team captain Paul MacIntyre. However the biggest difference in my opinion lies in the intangibles such as team spirit and team chemistry, this year we play like a team whereas last year i often felt that we lacked that understanding. We also moved from our Metrowest CC location to a Harvard University location which is more convenient for most people as far as commute goes and also promotes beer drinking after the games at the famous John Harvard's brewery.


2. There are rumors that a study session is held at GM Larry Christiansen's home before each match. Is this true? How much is it helping so far?

I don't know if Greg works for the Mossad but his information is very accurate. I wouldn't say every week but it has happened on some weeks and it definitely a productive experience even if you don't guess exactly what line your opponent will play. The home cooking was especially effective in the game Martirosov-Molner and it gave everyone a real sense of joy to see Vadim reap the benefits of home prep.


3. If any team knocks Boston out of the playoffs, which team do you expect it to be?

There is no team out there which is going to knock us out of playoffs, however it doesn't mean that there aren't good teams out there besides us who also think that they have a chance. In my opinion San Francisco is by the far the best team in the West and i expect them to come out of that conference. In the East both NY and Baltimore have struggled so far and we decided not to wait for them and currently find ourselves two games on NY and three on Baltimore. However, if you look at Baltimore you can clearly see that they did not put their best lineup for the 3 matches they lost, I think they are still a very dangerous team when they play their best guns and a defending champion should never be underestimated.


4. You were recently sighted at a New York Knights match. Why were you chosen to be the team spy?

Lol, yeah i guess I nominated myself to be a spy... I was in NYC to accompany a friend who was leaving, going back home to Russia, i was showing her the city and when i was in the village i decided to drop by and spy a little. Once at Marshall, I was told i cant have any cake because i beat Privman...oh well:)


5. Ok time for a boring question, tell us about your chess history and all that stuff. When did you learn, who taught you, what are your best accomplishments, etc etc

All males in my family played chess, and the culture of chess was deeply rooted in the family, i have pictures of my father playing regular simuls with Korchnoi, Spassky who would drop by my grandfather's factory on regular basis. When i was in first grade i think i was about 7, i told my grandfather that i want study chess, he took me to the local House of the Pioneers as it was called and brought me to the chess section. However when i saw how serious this was: that the students were using clocks and writing down moves, i got scared and said "no way". So it wasn't until next year when I moved into the suburb of St Petersburg--Pavlovsk, that i went to the local chess club located in the nearby city Pushkin( its the place where the famous Russian poet Alexander Pushkin attended a gymnasium, in fact it was a few blocks away from where i studied chess) that i began to study chess. At some point while still in Soviet Union I lost interest and stopped playing or studying and it wasn't until I immigrated to the US that i restarted taking lessons. I studied with FM Valery Frenklakh until i was 16 or so, at which point i quit chess again for about 6 years, i was already an expert. My accomplishments are very modest i think, i tied for 1st in Massachusetts High School championship several times, losing on tiebreaks, Shared 4th place in the Nationals Junior High tournament i believe in 1994. Lately I've won the Eastern Class and the Continental Open, both U2200, and tied for 3rd in last year's Harvard Open.


6. Last year you expressed complaints that the team with the top record during the regular season gets advantages, such as draw odds. Do you still have this complaint now that Boston is running away with the Eastern Division?

You know when i said that last year, i was thinking quite philosophically because Boston was out of playoffs and i had nothing to do. I thought it was giving a huge advantage to a team already favored to win, however last year's playoffs did not confirm these concerns as the tiebreaks were not needed and i think everyone was happy with this scenario.

(Translation from editor - Now that Boston will reap the benefits of this rule, Ilya is all for it!)




7. You won Game of the Week in Week 3 for your win over FM Boris Privman. Talk about that game and match a little bit!

Well i think it was a huge game and a huge match on Monday night football.... oh i meant to say chess. The funny thing was that it was difficult to get people to play because everyone had other commitments, it was a nightmare, I had to really convince Eugene to play in order to field a team. About an hour before the game, I realized my car wont start, this hasn't happened before I and I couldn't figure out what was the problem, a jump start failed to revive it. It should be noted that live about 40 min from Boston, in a city without any public transportation besides a commuter rail which is about 8 miles away and runs quite infrequently. Getting to the playing site was an adventure but I'll spare all the details, I got to the playing site about 30 min late but my clock was barely started and in that regard I'd like to thank Greg and the NY knights for showing understanding.

(ed - New York's Mackenzie Molner was lost somewhere wandering the streets of New York, so the late start wasn't all due to compassion from the Knights)





The game itself got wild when Boris carelessly castled long in a known position, I have a strong attack after Qa5 and White is already in trouble. I know Rxe4 made a lot of noise and some people just point out that it wasn't necessary, yeah i could have played d5 or even Rb3 which i considered, but Rxe4 was the most forcing continuation and i didn't see anything wrong with it. After spending lots of time calculating Qxd6 as there were no other moves, i was quite upset with myself for playing the panicky Bh6+? and forgetting that Bf4 doesn't work right away because of Qxf6 threating mate. I saw Re8 but got nervous about my time and decided to check first...After Boris missed Qxb8 and played Qa3( which was the 2nd bes move and shouldn't be criticized too harshly) white achieved a better endgame. I was low on time and it seemed like Boris tried to flag me, if thats the case it was a big mistake because i play bullet all the time and 4 minuted seemed like a lot of time to have. Anyways, Boris played very fast and not very precisely and i was first able to equalize and then when he committed a few errors in the rook+endgame i just had an easy win. Despite being honored for game of the week selection i must say that i was extremely surprised by it.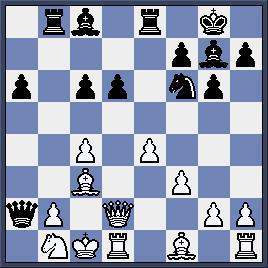 Privman - Krasik (Krasik played ...Rxe4!?)



8. 24 game match between Christiansen and Perelshteyn, who wins and what's the score? Don't wimp out and pick a tie to keep your teammates happy!

What a tricky question! Ok well its a toss up, i can flip the coin and say Larry or Eugene. They each have their strong points and play chess differently, Eugene is more positional player and he loves endgames, Larryc like to attack viciously and enjoys craziness in the position. I think in rapid time controls Larry is stronger but in a classical time control its become harder and harder to say as Eugene is definitely getting stronger. Larry has experience at the highest levels of international competition and having drank vodka with Tal gives him some edge, however Eugene is very solid and has proved he can hold his own against guys like Kamsky, Moisenko, and Nakamura. We are very fortunate to have them both.

(ed- Impressive display of writing an entire paragraph without specifically answering the question)




9. Who do you feel is the toughest regular fourth board in the USCL, not counting yourself?

I think the strongest board 4 is Baltimore's Katya Rohonyan, she is a women grandmaster rated something like 2350 FIDE! She is a big reason for their success last year. (ed - Krasik is scheduled to play Rohonyan tomorrow!)


10. Please tell us your thoughts on the US Chess League as a whole, and how the experience has been for you both this season and last.

Ever since i heard about the idea of USCL prior to last season, I was very excited and waiting anxiously for the game to begin. As a matter of fact my game against J Fernandez was the first ever USCL game, and even though it ended in a bitter disappointment for me i am happy to be involved in the beginning of this tradition. Last year I personally struggled winning won positions and I faced a lot of pressure from the local media, it wad even suggested that I be traded to Vancouver because it was alleged I was selfish in trying to win a game in which a draw was enough, lucky USCL didn't have a team in Vancouver and I remained in Boston uniform. The team as whole also struggled, we lost games we should have won and those we should have drawn, we were getting no breaks and all momentum swings went against us. For some reason many good players had negative scores on one team, it was like some kind of curse, this year that curse has been lifted and we just can't lose.




Thanks for your time Ilya, and best of luck to the Blitz in the remainder of the season!




Click here to go back to the US Chess League homepage