11/21/2005

Miami Sharks Interview
---------------------------------------------
by Bill Gibson
--------------------------------------------
The rich aroma of Cuban coffee and Spanish banter between strong chess players highlight the tropical flavor of a formidable chess club. Located just a few blocks west of the "Little Havana" district, Miami International Chess Academy is home turf for the Miami Sharks. Here, they prepare for their upcoming shot at the USCL Championship title.



5/8th of the Miami Sharks
from l to r (Eric Moskow, Julio Becerra, Marcel Martinez, Jose Cabrera, Blas Lugo)



Considered underdogs by many, the Miami Sharks have earned a place in the USCL Championship and are confident about their chances. Let's take a moment to hear from the four players scheduled to play this Wednesday November 23rd.


TEAM CAPTAIN FM MARCEL MARTINEZ - "Good luck to Baltimore, you're gonna need it!"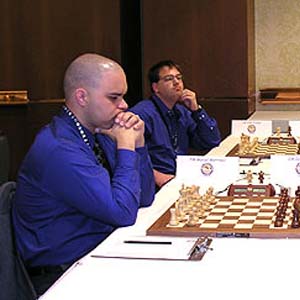 BG> Last week in the Semifinals things did not look good early for the team, but Jose Cabrera and you saved the Sharks' season with big wins. Tell us about the game.
Marcel> I felt like I was better out of the opening, Then I made a move which took me down a different route and my opponent ended up with a huge time advantage. Maybe he got nervous thinking he would win on time, I don't know. Based on that, I gave it my best shot and was able to come up with the win.
BG> How did you feel after the match?
Marcel> It was a great feeling! The guys in the club were clapping, it's been an exciting journey and now we just need to seal the deal for the USCL Championship next week.
BG> Baltimore Kingfishers Capitan Battsetseg Tsagaan says her team expects the match to be a big challenge with lots of surprises. What do you think about her prediction?
Marcel> I think it's a little off, because we're going to beat them no matter what. We are confident in our strength and ready to play a good match. Let it be fun… and we will see what happens…. but I am looking forward to a big win.
BG> You'll be on board two with White paired with her husband FM Tegshsuren Enkhbat from Mongolia. You drew with Black against him in week one's match. Towards end of that game, with results from other boards in mind, you were obviously playing for a draw.
Marcel> Yes, I thought I was a little better, but once I realized all we needed was a draw I contented myself with repeating the position.
BG> Will having the White pieces be a significant advantage for you this time?
Marcel> Not really. White or Black I always go for the kill. I am very competitive.
BG> Do you have a word for Baltimore Kingfishers?
Marcel> Good luck to Baltimore, you're gonna need it!
---

GM JULIO BECERRA - "Poker face? When playing in the Cuban Junior nationals, my coaches used to say I had "ice in my veins". Winning or losing I always had the same expression. I use this to my advantage."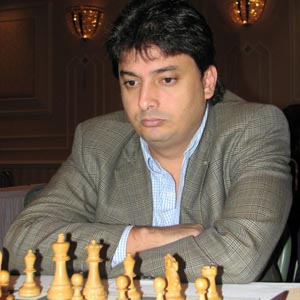 BG> Julio, you'll be playing first board against League MVP and Canadian Champion IM Pascal Charbonneau. In your week one match, you had no problems defeating his Sicilian Dragon.

Becerra> That was a great game. I feel my advantage came because I prepared a lot to play the line I played against this dragon. I had worked out everything until move 20.

BG> What do you expect from the League MVP with the White pieces?

Becerra> I think it will be a very tough match. I have seen how much Charbonneau has improved over the course of the season. He really earned the MVP. He finished all his games well, and I think it is because of him that Baltimore is in the Championship.

BG> I spoke with Charbonneau last night. He tells me you played each other OTB about four yeas ago in Bermuda.

Becerra> Yes, I remember this game. It was the first round of the tournament and I had Black. During the game he had a better position, but I was able to create complications and come up with a draw.

BG> Will this influence your preparation?

Becerra> I know he is a solid player, so I will (as I have against all my opponents this season) prepare hard for this match. I will look up all his games. Try to see what he can play against my Black openings.

BG> Charbonneau told me that he feels very good about the match and emphasized he would do what the team needed to win. Do you have a prediction?

Becerra> I think the game will be very complicated, but since this is a team effort I will be very conscious of what is happening on the other boards. If I need to win, I will of course play for the full point. But I am also okay playing for a draw if that is all our team needs to win the Championship.

BG> You had only one loss in the USCL season. Think back over your USCL games this season. Does any one game stand out?

Becerra> Last week I lost a tough game. But thinking back over the entire season the best game was in week one win against Charbonneau. It was chosen in Chess Life as the game of the month.

BG> Let's talk a little about you as an individual. What would you say was the most formative period in your chess development?

Becerra> I started playing chess very late. At the age of 13. But as soon as I discovered the game I fell in love with it, and for the next five years I would go to the chess club everyday after school. It was in this period that I became strong. In Havana we have the Capablanca Chess Club (the most famous in Cuba) which had many players much better than me. I played many games there and win or lose I would analyze my games. This helped my strength. I was such a regular fixture at the club that the people began to tease me asking if I had a bed there.

BG> Is there anything you'd like USCL fans to know about yourself?

Becerra> The last few years I was uncertain about what I wanted, but I want everyone to know that I am back. I am now 100% committed to chess. I would love to represent the US team in future Olympiads. I will be preparing very hard for the Nationals in San Diego next February, and I hope to become one of the best players in the world.

BG> Do you like playing online?

Becerra> I prefer to play OTB because I like to see my opponent's expression and other nervous behaviors. This helps me understand his state of mind and how he feels about his position.

BG> I can see why you prefer this, because Julio you have the absolute best poker face.

Becerra> Yes, this is true. When I was 15 or 16 and playing the Cuban Junior nationals, my coaches used to say that I had ice in my veins. Winning or losing I always had the same expression. I use this to my advantage.
---
IM BLAS LUGO -
"Nobody thought we would do very well, be we have demonstrated that Cuban chess players, and chess players in Miami are for real."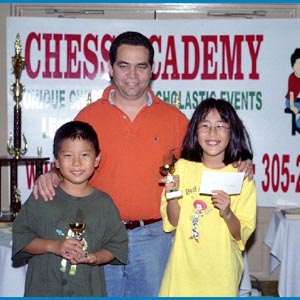 BG>
As club owner of the Miami Sharks home club MICA, let me start by saying congratulations on making the finals. Did you expect to be playing in the Championship when the season started?
Lugo> Let me be frank here. When we fielded this team we did so with the idea of winning it all. There were others that thought we would fail but we knew Miami had some very strong players and we believed in ourselves and felt we had high probabilities of winning it all.
BG> Next week, you'll have Black pieces on board three against seasoned veteran IM Larry Kaufman. He actually played for Miami in the original chess league back in 1970's Larry tells me you have faced each other many times in OTB competition. He said you had the edge in fast time controls, but that things were even in slow games.
Lugo> Yes, I agree. We have played many times over the years and I think we have a "friendly rivalry"
BG> What do you expect from him next week?
Lugo> No doubt he will be playing safe, because in a match like this one cannot risk too much in an individual game because it will affect the team.
BG> You have a reputation for being a fearless attacker. With so much at stake (and the Black pieces) will we see you playing for the full point? How will you approach the game?
Lugo> Obviously this depends on the position. But listen, even though there is a lot at stake in this game, if I see an opportunity to attack I will. Period.
BG> Does playing matches online have any effect on you psychologically? I.e. are you more or less aggressive than OTB?
Lugo> No for me it is the same. I prefer to play OTB because I like to see how my opponent is reacting to the game. But I play the same way online as I do OTB.
BG> Tell us a little about yourself.
Lugo> I began to play at 13 yeas of age with some kids from my barrio in Havana, but initially it was not that big a deal for me. I was more interested in other sports like baseball and volleyball. But then two things happened. My family was preparing to escape from Cuba, but when the government discovered our plan they punished me by taking me out of school. Then I broke my leg and ended up in a cast for many weeks. During this time I played more chess and realized how much I liked it. I also discovered that I was pretty good.
BG:> Tell us a little about your club, Miami International Chess Academy.
Lugo> When I first arrived in Miami I realized there were lots of strong players but there was nowhere to play and few tournaments. Now the club has nearly fifty members rated over 2000 and half of them have FIDE or National titles. Our club is the center of chess in Miami.
BG> As a titled professional chess player how do you feel about playing for City Pride instead of Cash Prize? Does this affect your attitude or time preparing for the matches?
Lugo> Listen, for me it's the same. Firstly, in Cuba, where I learned to play, the tournaments do not have cash prizes. The players compete for pride and the opportunity to demonstrate one's personal achievement. Secondly, 90% of the tournament games I play at the club are to help younger players develop. I play many times just to train them. I have become accustomed to do many things for chess without receiving financial benefit. Clearly, I would rather the USCL paid cash prizes but playing for the pride of having the best chess club in America is good too.
BG> Your prediction on the outcome of the USCL Championship?
Lugo> Since the beginning of the season we were never the favored team. Nobody thought we would do very well, be we have demonstrated that Cuban chess players, and chess players in Miami are for real. Last year we had five Cuban players from Miami in the US Championship, and this year we have three going. I predict we win. But win or lose we will be having a big party at my house to celebrate the season. We plan on roasting a pig in my back yard.
---
JOSE CABRERA -

"
Intimidated? The fact WGM Katerina Rohonyan
has a higher rating does not mean much to me. I have won many games against players with higher ratings.
"


BG>
Let's start by talking about your exciting game last week. With so much at stake against NM Andy Lee 2231 (rated nearly 150 points above you) your game was a real cliffhanger. What do you think about Greg Shahade's analysis that Lee missed a chance to force a draw with 33... Nf4!! 34. gxf4 Qf3 ?

What were you thinking at this point of the game?
Cabrera> Honestly I did not see this until after the game when I was analyzing. But this happens in many games, without the pressure of the clock one can find a missed win or missed draw.
BG> How do you feel being the only non-titled player in the Championship?
Cabrera> This does not bother me in the least. I think I could earn a title and I know on any given day I can beat a titled player. I am confidant in my ability.
BG> I am told you are a self-taught player. Tell us a little about your chess development… How did you get to where you are as a chess player?
Cabrera> I began playing in Cuba when I was 18. I am from Havana which has the strongest clubs and players. I knew I had a lot of natural talent, but I never took it too seriously, I just liked to play. Since coming to Miami, and since there are so many strong players in Miami, I have had many opportunities to play and stay in top form.
BG> I spoke to your Ukrainian opponent WGM Katerina Rohonyan last night. She told me she has to win, because her team is counting on her to bring home a full point. She said she was rated much higher than you and felt confident about winning. Does this intimidate you at all?
Cabrera> (Laughs) This does not affect me at all. The fact she has a higher rating does not mean much to me. I have won many games against players with higher ratings. If this helps her to feel better about her chances against me, fine. Good for her.
BG> Will you have any surprises for her?
Cabrera> I will be taking this game very seriously. When I put all of my energy and effort into a game I am very strong. This will be an interesting game.
BG> I hear you are a good poker player.
Cabrera> Yes, I enjoy poker and have won some money, but poker does not compare to chess. I play poker for fun and as a distraction. I am serious about chess and play to win!
BG> Good luck to the Miami Sharks!
Click here to go back to the US Chess League homepage